12/03/2015 / By stupidnews
---
In what can only be described as a monstrous example of how our centralized regulatory governmental authorities prioritize politically charged ideology over the real safety of the public, Volkswagen has been fined $18 billion for admitting it openly violated the Environmental Protection Agency's (EPA) emission standards, while GM was fined $900 million for knowingly deploying technology that ultimately killed 147 people.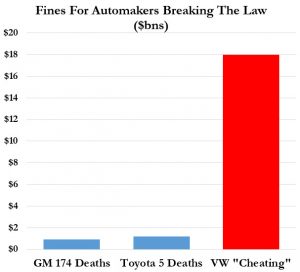 The Volkswagen decision was ultimately based on the junk science of anthropogenic climate change and UN Agenda 21 ideology, which has all been solemnly rejected by real scientists across the globe, yet is still being adopted and implemented religiously by the US government through policy and management. The hypocrisy lies in the fact that GM, who was fined for deploying a failed ignition which actually killed people, received a fine literally 20 times smaller!  This fine was leveraged, mind you, by the same agency that managed to pollute a large portion of the Colorado river this year through systematic negligence.
Sources:
[1] NaturalNews.com
Receive Our Free Email Newsletter
Get independent news alerts on natural cures, food lab tests, cannabis medicine, science, robotics, drones, privacy and more.